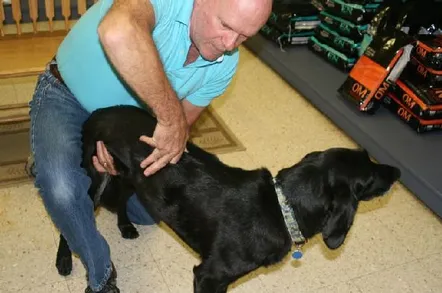 Acupuncture is recognized by the American Veterinary Medical Association as "the examination and stimulation of specific points of the body of non-human animals by use of acupuncture needles, injections, low-level lasers, magnets and a variety of other techniques for the diagnosis and treatment of numerous conditions in animals." The policy goes on to state, "Veterinary acupuncture and acutherapy are now considered an integral part of veterinary medicine."
Acupuncture is used for a variety of applications ranging from analgesia, musculoskelatal conditions, epilepsy, and organ dysfunction. Often acupuncture is used adjunctly with medication, surgery, or post-operative treatments. Acupuncture is often chosen to complement traditional therapy or provide an alternative form of medical therapy. Appetite stimulation, nausea control, and immune modulation can aid animals with cancer, immune deficiencies, seizure tendencies, and arthritis. Many more conditions in animals can be treated with acupuncture therapy.

Chiropractic is very useful in treating vertebrae and extremities to regain normal range of motion and balance neurologic function in affected animals. Dr. Allen has a large patient base of horses and dogs, as well as cats, rabbits and other species who have all benefited from chiropractic adjustments.